---
Samsung Galaxy SIII enhancements : C Pen, Wireless Charging,Desktop dock and accesories. Video.
Posted: 16 Aug 2012 11:16 PM PDT
WorldWide Tech & Science. Francisco De Jesùs.
Samsung Galaxy SIII enhancements : C Pen, Wireless Charging,Desktop dock and accesories. Video.
Discover how to enhance your GALAXY S III experience with a desktop dock, specially designed covers, the C Pen and a wireless charging kit.

Effortlessly smart and intuitively simple, Samsung GALAXY S III reveals a new concept of smartphone.
AllShare Dongle
Samsung
Siri could be getting a new job soon at your bank.
Posted: 16 Aug 2012 10:22 PM PDT
Siri could be getting a new job soon at your bank.
By CNN Money.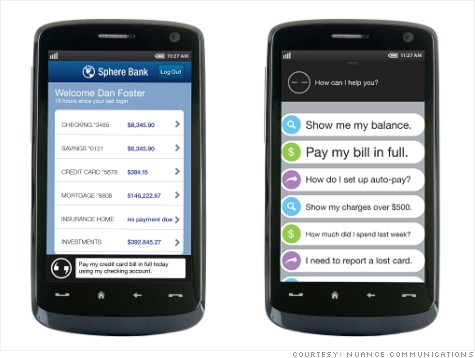 The folks behind some of the technology in Siri, the iPhone's virtual personal assistant, are bringing their voice recognotion technology to customer service applications, including bank, cable and credit card smartphone apps
Nuance Communications

last week announced the creation of "Nina," a natural human language input software that is designed to understand customers' questions about their accounts. Think of Nina as Siri's cousin who lives inside your credit card app instead of your iPhone.
Nina could be molded to suit any customer-focused application, but in a demonstration with CNNMoney, Nuance chose a banking app to illustrate the technology's capabilities. Just as Siri understands that "Do I need an umbrella today?" is a question about weather, Nina can field contextual questions.
For instance, an order to "Pay my bill" brought up Nina's response -- in Siri's familiar voice: "How much would you like to pay?"
Nina understood the reply of "my statement balance," and asked whether she should go ahead with the payment right now.
"No, let's do it on Monday," The software can also check balances, transfer money, and troubleshoot problems, among other tasks. Nuance said the idea is to make Nina smart and fast enough to encourage users to go to the app first, before dialing a human customer service representative.
If a customer's issue needs to be handled by a human being, Nina comes with a neat trick: The software can call a rep and provide the company with all the details of what the customer has been trying to accomplish. That means no more sorting through an endless series of call center menus and then having to explain the problem again when you finally get a human being on the other end of the line.
Nina also comes with an analytics engine that informs companies about how customers are using their apps.
"People will ask their phone different things than they would a representative on the phone," said Robert Gary, general manager of Nuance's mobile care unit. "Knowing what people ask Nina will help them determine what should be automated and what shouldn't."
Nina is extensively customizable to work with any app that has customer service features, and it's available on multiple platforms, including Apple's iOS, Google's Android and Microsoft's Windows Phone. Companies can choose their own voice talent if they don't like the stock "Siri" or any of the other computerized voices.
Nuance built a nifty security feature in as well: To login to an app that incorporates Nina, users can say their password into their phone, and Nina will run a voice biometrics engine to determine whether it's really the customer trying to get in.
USAA has announced that it will integrate Nina into its app. Nuance says it expects other financial institutions to come on board soon.got a response of "Okay, I'll set up your payment for this Monday."
Apple may have chained up Siri, but the technology's creators working to let her features loose on other platforms.
LTE:USA: Verizon LTE network covers now 75% of country`s population.
Posted: 16 Aug 2012 09:40 PM PDT
WorldWide Tech & Science. Francisco De Jesùs.
US number-one operator Verizon Wireless said its LTE network will cover more than 75 percent of the country's population with its introduction in 34 new markets and expansion in 38 existing markets today.
The network is the largest in the US and will now cover 371 US markets, more than all other US operators combined, according to Verizon Wireless chief technical officer Nicola Palmer. "We are ahead of schedule with our 4G LTE market roll out and will provide 4G LTE network coverage to more than 400 markets in the near future," she said.
In March, the operator pledged that its LTE network would be available in 400 markets and cover 260 million people by the end of the year. It also said it would ensure all new smartphones launched in 2012 were compatible with the network.
Rival AT&T's LTE network now covers more than 74 million people in 51 markets and the operator hopes to reach potential coverage areas of 150 million people by the end of the year. Number-three operator Sprint started its LTE rollout in July with 15 markets and expects to have "largely completed" the implementation of the new network across the country by the end of 2013.
The Verizon Wireless LTE network is going live today in cities in Arkansas, California, Georgia, Illinois, Kansas, Louisiana, Massachusetts, Michigan, Minnesota, Missouri, North Dakota, Ohio, Pennsylvania, South Dakota, Texas, Vermont, Virginia, Washington and Wisconsin.
Official: Nokia and Microsoft send out invitations for the Sept 5 event in NYC.
Posted: 16 Aug 2012 08:55 PM PDT
WorldWide Tech & Science. Francisco De Jesùs.
Official : Nokia and Microsoft send out invitations for the Sept 5 event in NYC.
The event will take place in New York at 9:30 A.M . What Nokia and Microsoft are going to announce or unveil?
Speculations about a new line of Lumias with WP8 and dual-cores and quad-core cpus, for the software based when

Microsoft gave us a sneak peek at Windows Phone 8, AKA Apollo, back in June:
Windows Phone 8 will share a kernel, file system, media foundation, device drivers, and parts of the security model of Windows 8, and is due out in the fall. Packing support for multi-core processors, displays up to 1280x768, and external SD storage, Windows Phone 8 will bring Internet Explorer 10 to Windows Phone devices as well as in-app purchases, , and improved enterprise features (including device management for administrators, Office apps, support for BitLocker encryption, and secure boot mode).
Maybe NFC beam share technology on board?
HP: Our Windows 8 tablet will have exclusive technology. Financing partners for first time.
Posted: 16 Aug 2012 07:58 PM PDT
HP: Our Windows 8 tablet will have exclusive technology. Financing partners for first time.
WorldWide Tech & Science. Francisco De Jesùs.
The company recently admitted to CRN that the device will feature "unique" intellectual property
. John Solomon, senior vice president of Americas sales for HP's printing and personal systems division, said that additional details will be revealed "pretty soon."
"Other OEMs will be doing tablets, but the HP tablet is going to be different: It's going to have a specific area of focus, or multiple areas of focus, which will require a high degree of channel engagement to take full advantage of the opportunity," Solomon told CRN.
The device will be tailor-made for the tablet channel, targeting vertical markets. Like all other tablet makers, HP will be going after Apple's iPad, only this time the company will be backed by Microsoft's new touchy-blocky Windows 8 platform.
Solomon told CRN that HP is giving partners 60-day financing for tablets and other products under a recently launched program. This program also includes the participation of Wells Fargo, GE Capital, IBM and De Lage Landen.
"Essentially, we're helping pay the interest cost for partners and making sure cash flow is not an inhibitor for them growing," Solomon said. "This is something we haven't done in the past, and we think of it as proof of what we're doing to re-ignite the channel."
Solomon also backed Microsoft's need to produce the Surface tablets, saying that the move isn't a competitive threat. "I believe Microsoft was basically making a leadership statement and showing what's possible in the tablet space," Solomon added. "Our relationship has not changed at all due to Microsoft's announcement. In fact, I applaud it -- I think it's great that they are getting out in front and showing what's possible."
He also said the Surface keyboard will be great for occasional use, but professionals will want something better that's capable of everyday use.
You are subscribed to email updates from Worldwide Tech & Science
To stop receiving these emails, you may unsubscribe now.
Email delivery powered by Google
Google Inc., 20 West Kinzie, Chicago IL USA 60610